"All cyclists start at the bottom.
Make sure you protect yours!"
A quality chamois cream will no doubt make your ride more comfortable and help to prevent chafing or injury to your skin. There is nothing more annoying than an irritation and sensitivity of your skin that arises after a good bike ride. Making it hard to get back on the bike the next day.
Chamois Butt'r was developed in 1988 by Steve Mathews, physiotherapist and cycling fanatic. In collaboration with professional athletes, doctors and pharmacists, he developed Chamois Butt'r cream that protects the skin while cycling and also restores it after cycling. In addition, each cream contains an antibacterial function that in turn prevents inflammation. After the first steps were taken, Steve Mathews didn't stand still. He worked continuously on improved formulas to eventually reach the Number 1 selling Chamois cream in the United States. The brand is now at the start of an international expansion and we are happy to help in this story by introducing the brand in the Benelux!
Discover below the entire Chamois Butt'r range. Would you like to receive more information? Feel free to contact us!
The Chamois Butt'r creams are free of parabens, phthalates, gluten or artificial fragrances. Prevents chafing and will soothe already chafed or irritated skin. Chamois Butt'r creams immediately improve comfort whilst riding. The products can be easily washed out of clothing and will not damage or discolour your clothing.
Chamois Butt'r Original
The Original version suitable for any cyclist, has been around for over 25 years. This cream lubricates, soothes and soothes the skin and this, before, during and after the ride. Available in a 9ml sachet or 235ml tube.
Chamois Butt'r Her
The world's first chamois cream with a PH-neutral value, especially for ladies. Every chamois cream is suitable for both men and women, but this cream was developed especially for women by a female sports medical doctor in collaboration with professional female cyclists. In addition, aloe Vera, Green Tea Leaf Extract, Tea Tree Oil, Shea Butter and Lavender Oil were added for their natural benefits. Available in a 9ml sachets or 235ml tube.
Chamois Butt'r Eurostyle
Experience an extra soothing and refreshing feeling thanks to the addition of Menthol and Witch Hazel. Suitable for any cyclist, especially for those who want a slightly more traditional (by European standards) cream. Available in a 9ml sachet, 235ml tube or pot.
Chamois Butt'r Coconut – NEW
After 5 years of research Chamois Butt'r launched this soothing coconut crème. This crème is suitable for the most sensitive skin. During the production process they added coconut oil and Shea butter for a deep hydration. The healing ingredients contain natural antiseptic features to sooth and calm the earlier irritated / abraded skin. This product also contains Vitamin A&E, Aloe Vera and Tea Tree Oil. Available in 235ml tubes.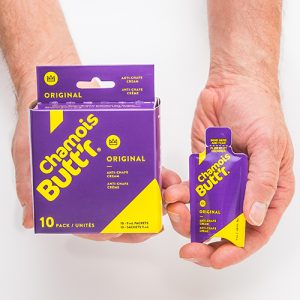 Cycling- and sports shops are able to directly place an order using our B2B webshop. The log-in is your e-mail and the password is only known to you. If you haven't got a login yet, please contact your Bowdy and Brave
contact
. Private individuals can't directly order on our webshop. We are happy to refer them to their closest
dealers
.